Application for 2022 is closed. Application for 2023 will be open from August 01 – October 31, 2022.
Objective
The objective of the "Clinical Fellowship Programme" is to provide a well- defined clinical observational experience in a department with recognised expertise in a specific field.
With this programme, neurologists that are still in the process of training, or recently qualified and setting up a new service/practice can learn from observing the usual practice in that new department, including any or all of clinical practice, service structures or specific techniques conducted in the Hosting Department.
Grant
The programme is designed for a minimum stay of 6 up to a maximum of 12 weeks in a Hosting Department outside the country of residence (with a minimum of frequency of 5 days/week in each weeks).
Starting from 2021, the number of granted weeks will be increased from 210 weeks (35x 6 weeks) to 300 weeks. The granted weeks per application are based on justification for the length of the stay and the grades of the 3 separate reviewers .
The grant for the programme will be 425,-€ per week, plus travelling costs (maximum of 300 Euro of travelling costs).
Travelling costs will only be reimbursed after the end of the clinical fellowship, upon receipt of report and confirmation from both the clinical fellow and mentor at Host Department, as well as the evaluation forms.
The fellow's final report should include a summary of activity during the fellowship and the achieved knowledge/skills.
Ideally, the grantee has knowledge of the language at the host department, as not all patient-rounds can be held in English.
Support for neurologists in training from Ukraine
For 2023, five additional Clinical Fellowships will be made available to RRFS members from Ukraine to support 6-12 weeks in another European neurological department.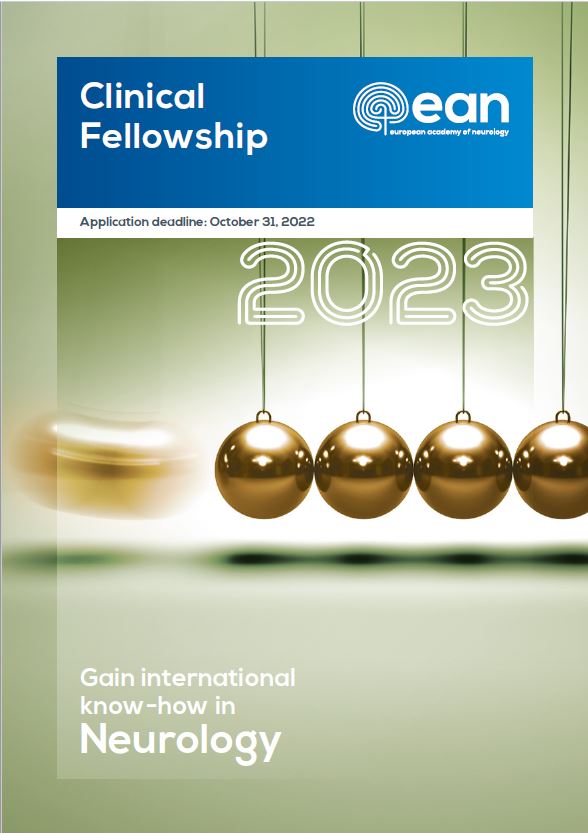 Clinical Fellowship winners 2022
EAN has awarded 36 Clinical Fellowships for 2022, amounting to 300 weeks in total.
The list of winners can be found here.
EAN supports European neurologists in training in deepening their professional experience and expertise.
The EAN Education Committee takes great care in contacting all Neurological departments situated in EAN member countries every two years, asking them to be part of this network and verify their status as approved EAN hosting department and receive updated information.
The grantee should have knowledge of the language at the host department, as not all patient-rounds can be held in English. Hosting department cannot influence the selection of grantees. Applicants and hosts are expected to have consulted and worked together on any application to maximise the likelihood of success.