Brain Health Event at the European Parliament
The Future of Brain Health:
Clinically Informed & Patient-Centred Brain Research
Under the Auspices of the Czech Presidency of the Council of the European Union, and hosted by MEP Ondřej Knotek, the European Academy of Neurology held an event on 'The Future of Brain Health: Clinically Informed & Patient-Centered Brain Research' to highlight the importance and need for research, as well as the main priorities and gaps within neurology, which if addressed will have major impact on brain health.
The vision of the European Academy of Neurology is to advance research efforts and equal access to high-quality care for everyone. Given the high burden of neurological disorders on European healthcare, it is vital that neurologists provide a clear direction for clinically informed research priorities, in order to address serious gaps in prevention, treatment, diagnosis and understanding of neurological disorders.
The event took place at the European Parliament in Brussels on December 8 from 14:00 to 16:00 CET with the aim to highlight important areas for future research within neurology, which will significantly impact brain health in Europe while enhancing care for patients.


Full Recording of the Future of Brain Health Event
You can watch the full 2 hour event below. Time stamps are listed in the programme at the bottom of the page.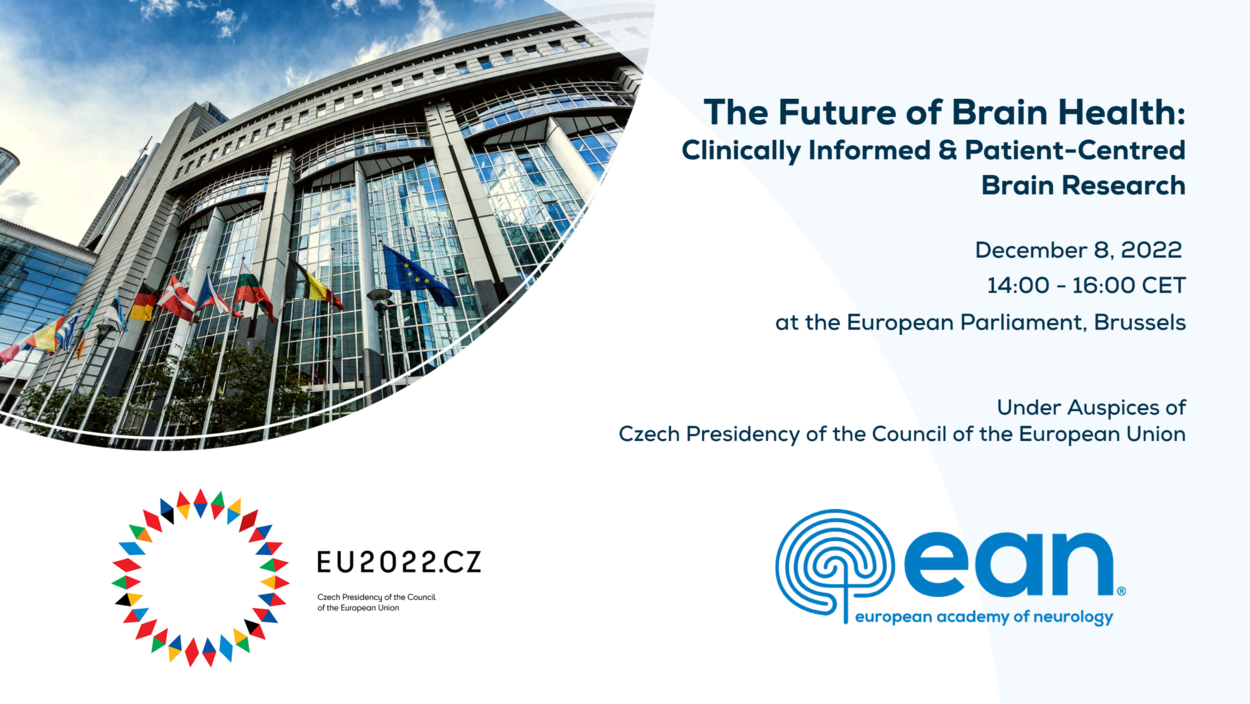 Programme
Moderator: J. Thornton
Time Stamps
00:00
Welcome
Ondřej Knotek, Member of European Parliament
Prof. Paul Boon, President of the European Academy of Neurology
07:40
Patient Inclusion in Neurological Research
Robert Joyce, Embedded Patient Researcher, University of Galway, Ireland
19:40
Keynote Remarks:
Message from Czech EU Presidency Vlastimil Válek, Deputy Prime Minister & Minister of Health of the Czech Republic
27:30
The Czech Stroke Network
Prof. Ales Tomek, Ph.D., Czech Neurological Society
36:25
Addressing the Burden of Neurological Disorders in Europe through research
Prof. Paul Boon, President of the European Academy of Neurology
59:50
The Future of Brain Research in Europe:Key Priorities and How They Can Be Addressed
PANEL
Orla Galvin, European Federation of Neurological Associations (EFNA)
Pawel Swieboda, EBRAINS
Wolfgang H. Oertel, European Brain Council (EBC)
Frances-Catherine Quevenco, Women's Brain Project (WBP)
02:04:35
Concluding Remarks & Call for Action
Prof. Paul Boon, President of the European Academy of Neurology