Lord John Walton of Detchant, UK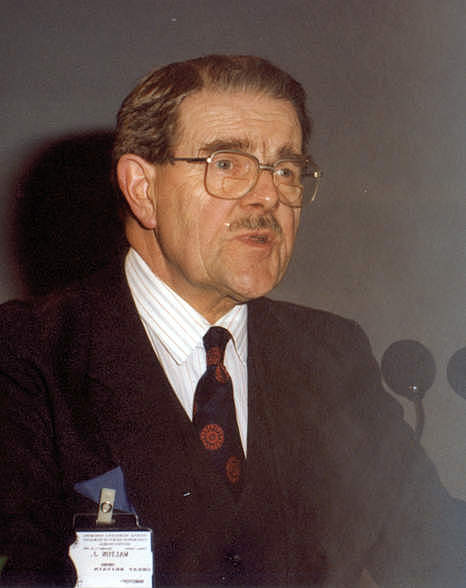 Lord John Walton of Detchant, United Kingdom
Read the obituary of Lord John Walton of Detchant here
John Walton is born 1922 in Durham county, studied medicine in Newcastle during the war and qualified in 1946. After 12 months as a hospital houseman followed by military training and service in the Territorial Army, he became a medical registrar at Royal Victoria Infirmary in Newcastle. He wrote his MD thesis on subarachnoidal haemorrhage. In 1951 he became a research assistant and worked first at the National Hospital, Queen Square to do neurophysiology, especially electromyography, and then came back to Newcastle to investigate muscular dystrophy. In 1953, he went to USA to do research in muscle disorders with Professor Ray Adams at the Massachusetts in Boston. He then came back to Queen Square, first to work in Dr. Arnold Carmichael's neurological research unit, continuing his research in neuromuscular diseases and then back to Newcastle, where he became a consultant in 1958. In 1968, he was promoted to a personal chair in neurology and in 1971 appointed the Dean of Medicine in Newcastle. He also became Head of the Neurology Department. As a Research Director, he initiated the establishment of the Muscular Dystrophy Laboratories, and Newcastle became internationally known for its research in neuromuscular diseases.
John Walton was President of the British Medical Association, and then of the Royal Society of Medicine. He was knighted in 1979 and was introduced to the House of Lords in 1989 as Lord Walton of Detchant. He became Warden at Green College and moved from Newcastle to Oxford in 1983.
John Walton was elected President of the World Federation of Neurology in New Delhi in 1989. He was the last President to stay for 2 periods, 1989-1997.
In Europe, a Pan-European Society of Neurology had already been formed, and on John Walton's proposal it became a European Federation of Neurological Societies under the auspices of the WFN at the Pan-European Congress in Vienna in 1991. His idea was that it should plan for the future on the same firm and assured long-term basis as do other regional congresses. John Walton is an Honorary Member of the EFNS.
Literature:
Walton J. The Spice of Life. From Northumbria to World Neurology. Royal Soc Med Services. London 1993.
Johan A. Aarli