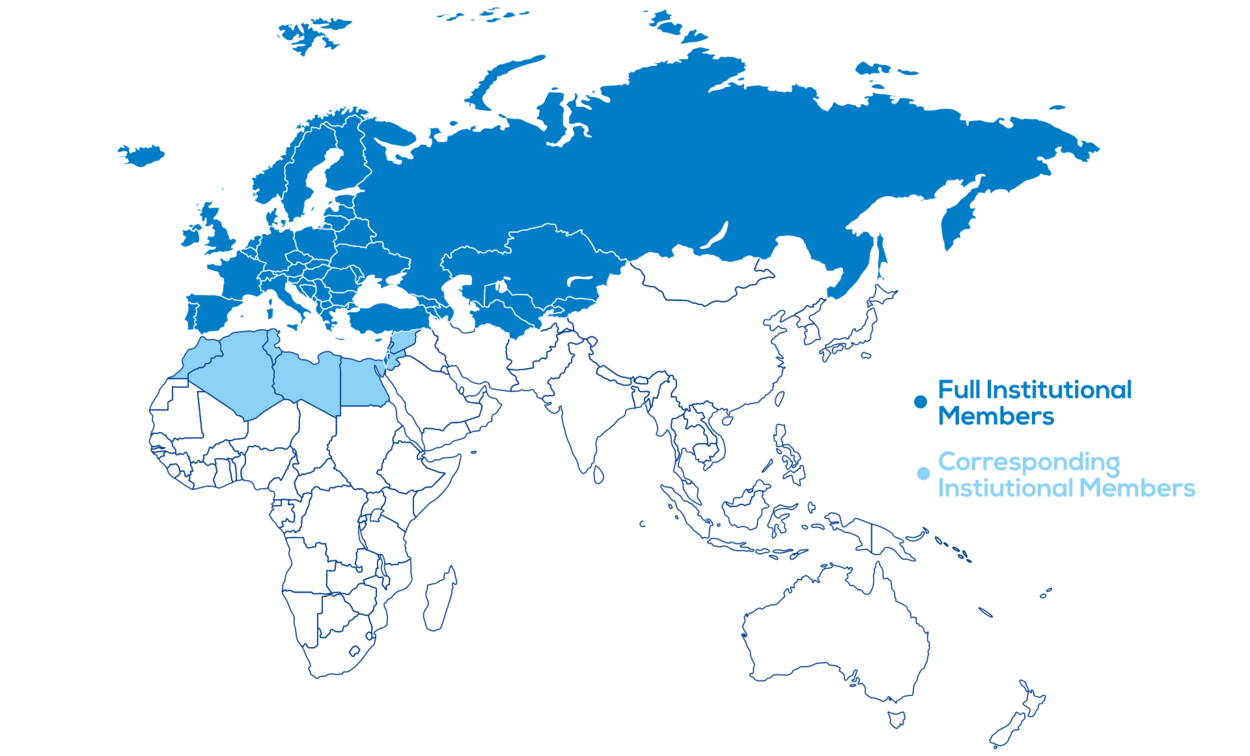 EAN Board members are committing their time to the development of EAN. They engage daily in the management of the society, organise meetings, research and educational projects. They are dedicated and do their best to make EAN the home of neurology for all neurologists to reach EAN's goal of availability of high standards of care for all neurology patients.
Claudio Bassetti
Thomas Berger
Paul A.J.M. Boon
Matthias Endres
Franz Fazekas
Tony Marson
Elena Moro
Dafin Fior Muresanu
Riccardo Soffietti
Marie Vidailhet

Currently, 47 European National Neurological Societies are Full Institutional Members of EAN. Each society is represented by one delegate, who takes part in the EAN Assembly of Delegates and other EAN activities and most importantly serves a link between the two Societies.
Dragana Cvetkovska
Arstanbek Murzaliev
Ole-Bjorn Tysnes
Evija Miglane
Aida Kondybayeva
Antonio Federico
Slavica Vujisic
Miguel Ribeiro Soares Rodrigues
Jelena Drulovic
David García Azorín
Monique Sandra Reiff
Neşe Çelebisoy
Bella Grigoryan
Timothy Counihan
Uros Rot
Dalius Jatuzis
Pall Ingvarsson
Costas Michaelides
Mira Kapisyzi-Rakacolli
László Csiba
Hans Jung
David Tanne
Paul A.J.M. Boon
Mario Habek
Rahim Aliyev
Elisabeth Fertl
Saidkamol A. Nadjmiddinov
Jaroslaw Slawek
Yuri Alekseenko
Sinisa Miljkovic
Cristina Tiu
Sten Fredrikson
Tamara S. Mishchenko
Zuzana Gdovinova
Alla Guekht
Vitalie Lisnic
Alexander Tsiskaridze
Janika Kõrv
Dessislava Bogdanova
Philip Scheltens
Reetta K. Kälviäinen
Blerim Myftiu
Milan Brazdil
Jon D. Sussman
Khé Hoang-Xuan
Henning Andersen

EAN Community of Individual Members is represented within the EAN Assembly of delegates (democratic heart of EAN) by Individual Delegates, who are elected every four years. Every Full Member of Fellow of EAN has an active as well as passive voting right and decides on the future of EAN.
Angelo Antonini
Kailash P. Bhatia
Thomas Brandt
Valeria Caso
Hannah Cock
Carlo Colosimo
Giancarlo Comi
Nicola De Stefano
Marianne de Visser
Marianne Dieterich
Gilles Edan
José M Ferro
Massimo Filippi
Nils Erik Gilhus
Hans-Peter Hartung
Ludwig Kappos
Didier Leys
Catherine Lubetzki
Wolfgang H. Oertel
Jes Olesen
Heinz Reichmann
Evzen Ruzicka
Aksel Siva
Claudia Sommer
Per Soelberg Sörensen
Michael Leo Strupp
Eduardo Tolosa Sarro
Antonio Toscano
Claudia Trenkwalder
Josep Valls-Sole

The Communication Committee is responsible for advising the Board about the communication strategy of EAN and assists the Board in liaising with other professional, scientific and lay organisations in the field of neurology in Europe and beyond. It is vital in particular for communication with national and subspecialty societies as well developing EAN's press and media relations and visibility to the wider public.
Edoardo Caronna
Thomas M. Jenkins
Antonella Macerollo
Dafin Fior Muresanu
Eveline Sipido
David B. Vodušek
Tim von Oertzen

The Education committee chair and members work closely together when monitoring all educational activities and developing recommendations related to the educational aims of EAN to facilitate continuous professional development. They want to guarantee optimal skills and competencies at all levels and stand for dedication to fellowship programmes for Neurologists in training and co-operation between European neurological departments. Overseeing the development of future eLearning possibilities and the advancement of future professional development programmes is just another pillar of their voluntary work for EAN.
Monika Benson
Pablo Irimia
C.J.M. (Karin) Klijn
Stine Knudsen-Heier
Celine Louapre
Francesca Morgante
Dafin Fior Muresanu
Matthieu Perrenoud
Irena Rektorova
Benedikt Schoser
Johann Sellner
Riccardo Soffietti
Maria Stamelou
Walter Struhal
David B. Vodušek

The Programme Committee shapes the heart of the EAN Annual Congress. The committee selects and decides on the complete programme for each congress, ensuring a balanced session selection that excites all participants. They review, amend and select scientific topic proposals, approve the educational programme, select abstract submissions and develop the Poster programme. Next to that, they develop overarching theme sessions, take care of daily decision-making on smaller matters related to the congress. Their dedication to the cause is fundamental for the success of each congress.
Angelo Antonini
Thomas Berger
Stefan Evers
Urs Fischer
Sten Fredrikson
Salimata Gassama
Dan Healy
Romano Hönger
Ulf Kallweit
Tony Marson
Julia Mayer
Caroline Pot
Irena Rektorova
Riccardo Soffietti
Walter Struhal
Antonio Toscano

The Scientific Committee (SC) develops recommendations for policies and activities related to all issues of scientific nature. It oversees and coordinates the activities of the Scientific Panels, that cover all major areas of clinical neurology. The SC functions as a direct link between the Scientific Panels and the EAN Committees & Board and is deeply involved in the activities of the European Affairs sub-Committee.
Thomas Berger
Femke H. Bouwman
Charlotte Cordonnier
Yves Dauvilliers
Romana Höftberger
Teia Kobulashvili
Maurizio A. Leone
Didier Leys
Eavan Mc Govern
Dafin Fior Muresanu
Maria Assunta Rocca
Philippe Ryvlin
Pille Taba
The EAN Resident and Research Fellow Section (RRFS), a platform for encouraging intercultural exchanges and support, is led by Officers: Chair, Secretary, Treasurer, Liaison Officer and Past Chair. They are in charge of and coordinate all RRFS-related activities, appoint representatives for different EAN Committees and Working groups and organise regular meetings.
The Officers represent the interests of neurologists in their training/early career stage and promote collaboration and friendship among them.
Alice Accorroni
Vanessa Carvalho
Luca Cuffaro
Anna Sauerbier
Nina Vashchenko

EAN Resident and Research Fellow Section (RRFS) has its representatives in all EAN Committees and sub-Committees as well as in the Scientific Panels. Their main role is to serve as liaison officers who ensure that the interest of the RRFS members is considered when planning and executing different EAN activities.
Joana Afonso Ribeiro
Diana Aguiar de Sousa
Efthalia Angelopoulou
Roberta Balestrino
Marianthi Breza
Diogo Carneiro
Edoardo Caronna
Vanessa Carvalho
Bogdan Ciopleias
Isabella Colonna
Francesco Di Lorenzo
Laurens Dobbels
Nicolas Dubuisson
João Durães
David García Azorín
Salimata Gassama
Mihai Radu Ionescu
Teia Kobulashvili
Antonella Macerollo
Ronan N McGinty
Marcello Moccia
Maria-Lucia Muntean
Matthieu Perrenoud
Francesca Puledda
Mariana Reis Costa
Raquel Rocha
Leandro R. D. Sanz
Sangeeta Scotton
Ide Smets
Edoardo Gioele Spinelli
Miguel Tábuas Pereira
Vlad Tiu
Katarina Tudor
Nina Vashchenko
Alberto Vogrig
Yvonne Zuurbier

The Scientific Panels' Management groups are responsible partners of the EAN Scientific Committee. The standard size of the Management group is 3-6 persons, including two Co-chairs. The members of the Management group (MG) are elected by the Scientific Panel members and lead and coordinate all Panel-related activities (congress sessions, scientific updates, ecommunication, education, guideline production, EU related matters, meetings, ...).

This taskforce aims to help neurologists in Europe and beyond prepare for and manage the challenges this global crisis is bringing. To support neurologists, EANcore CoVID-19 provides up-to-date information on the pandemic, collates emerging data on neurological complications, publishes reports from front-line doctors, the latest research, breaking news, and more, all to access in just one place.
Claudio Bassetti
Ettore Beghi
Daniel Bereczki
Benedetta Bodini
Anja Burlica
Francesco Cavallieri
Andrew Chan
Michael Crean
Giovanni Di Liberto
Raimund Helbok
Thomas M. Jenkins
Didier Leys
Antonella Macerollo
Luis F. Maia
Filippo Martinelli Boneschi
Elena Moro
Serefnur Ozturk
Antonio Pisani
Alberto Priori
Martin Rakusa
Anna Sauerbier
Johann Sellner
Riccardo Soffietti
Pille Taba
Tim von Oertzen
Marialuisa Zedde

The eCommunication Board is responsible for running the EAN website, which includes among many sections the Guideline Reference Center, Neurology Updates, Registrar's Reading Lists, Scales and Scores as well as content on the start page of ean.org. One co-chair is the website editor, who oversees major changes and developments of the website.
The board members also create and develop content for the EAN news blog www.eanpages.org with another co-chair serving as the editor, overseeing and approving all content on a monthly basis. In addition they oversee EAN's social media outreach.
Benedetta Bodini
Isabella Colonna
Thomas M. Jenkins
Dufour Juliette
Antonella Macerollo
Viktoria Papp
Martin Rakusa

The e-Learning sub-Committee (eLsC) is a subsidiary committee to the Education Committee and is responsible for the implementation of the EAN online learning platform and the development of ongoing online learning possibilities. The Editorial Board and representatives of several EAN committees oversee major e-Learning decisions and ensure high quality content for the neurological community.
The e-Learning sub-Committee is a major part of EAN's educational pillar and strives to provide high quality e-Learning content for the EAN community through numerous items such as Webinars, Webcasts, Virtual Master Classes and other online items.
Simona Balestrini
Roberta Balestrino
Yıldız Değirmenci
Francesco Di Lorenzo
Marian Galovic
Dufour Juliette
Simon Jung
Elena R. Lebedeva
Francesca Morgante
Benedikt Schoser
Barbara Tettenborn
Roland Wiest
Yvonne Zuurbier

Ethics and Quality Task Force (EQTF) is responsible for defining and assessing compliance of all EAN activities with high quality standards. This Task Force conducts and oversees the feedback process of all educational and scientific activities, and based on the received input, prepares recommendations for amendments for other EAN committees and working groups. Also, the EQTF advises the EAN Board and other committees in any occurring ethical matters. Moreover, the EQTF serves as a revising group for the EAN Endorsement of activities organised by other organisations, granting them the EAN acknowledgement of high quality educational events.
Günther Deuschl
Francesco Di Lorenzo
Gustave C. Moonen
Maria Stamelou
Walter Struhal
Panagiotis Zis

The Task Force on Gender and Diversity issues in Neurology, as one of a few within neurological organisations globally, dedicates its work to addressing disparities in clinical presentation of neurological disorders based on the different variables like sex, gender, race or ethnicity, which can impact many aspects of neurological diseases and the overall practice of neurology. This Task Force aims at increasing awareness of exisisting diversity in neurological disorders, disseminating knowledge on gender and other diversity issues in neurology and, therefore, fostering health care systems' changes.
Anne Hege Aamodt
Gennarina Arabia
Selma Aybek
Vanessa Carvalho
Marianne de Visser
Maria Teresa Ferretti
Riadh Gouider
Wolfgang Grisold
Joke Jaarsma
Elena R. Lebedeva
Alia Hassan Mahmoud Mansour
Maria J. Molnar
Elena Moro
Evelina Pajediene
Martin Rakusa
Anja Sander
Irene Tracey
Kristl Vonck

The Guideline Production Group (GPG) is part of the EAN committee structure and collaborates closely with the Scientific Committee. The GPG oversees the guideline production, reviews the documents submitted by the task forces to ensure the conformity with the EAN rules, and assists with methodology. The GPG also organises a special session on EAN guidelines that have been/are under finalisation at the EAN annual congress to disseminate information on new guidelines.
Katina Aleksovska
Claudio Bassetti
Thomas Berger
Vanessa Carvalho
João Costa
Günther Deuschl
Kristian Steen Frederiksen
Joke Jaarsma
Teia Kobulashvili
Maurizio A. Leone
Lucia Pavlakova
Michele Romoli
Luca Vignatelli

EAN Science School Task Force has been set up to establish the 1st EAN Scientific School - a new format devoted to research and translational neurology, instead of the traditional clinical approach. Their main tasks are programme preparation, selection of participants and evaluation followed by a proposal to the Scientific Committee whether this format is successfully and should be translated into EAN activities as a fixed activity.
Thomas Berger
Giovanni Di Liberto
Luis F. Maia
Antonio Pisani
Caroline Pot
Guido Stoll
Kristl Vonck

The Joint Education Board is a shared endevour of EAN and the UEMS SN/EBN, that works on common educational goals of both organisations. As it's first and major task, the JEB works on organising and expanding the European Board of Neurology examination, which is considered to be a tool for the assessment of neurological training in Europe and beyond. Moreover, the JEB coordinates update of the European Training Requirements in Neurology document which aims at promoting high standards of care for patients with neurological conditions throughout the European nations. Futhermore, developing a visitation system of neurological departments in Europe is in the pipeline, which shall also contribute to high standards of neurological care.
Gilles Edan
Sten Fredrikson
Pablo Irimia
Jan B.M. Kuks
Benedikt Schoser
Sangeeta Scotton
David B. Vodušek

The Student Task Force is devoted to promoting EAN activities and the neurology domain among medical students. They strive to find innovative ways to increase the number of students entering neurology and to educate those who do not know about the value of neurology and neurologists. The Student Task Force collaborates closely with the Resident and Research Fellow Section (RRFS).
Maria Bogorodskaya
Anne Bruijnes
Stella Goeschl
Elena Moro
Olivier Uwishema

The Teaching Course sub-Committee chair and members are dedicating their voluntary time in creating the educational programme for the annual congress and other EAN courses outside congress that are happening all over Europe and the African continent. They have created a 5-year curriculum in line with the ETRN that foresees a steady and continuous presentation of all sub-fields in all levels. They interact to prepare future blended learning possibilities that facilitate access to continuous learning to many junior and senior Neurologist alike.
Jonathan D. Cole
Cristian Falup Pecurariu
David García Azorín
Julia Mayer
Celia Oreja-Guevara
Davide Pareyson
Irena Rektorova
Erich Schmutzhard
Maria Stamelou
Ambra Stefani
Walter Struhal
Miguel Tábuas Pereira
Roland D. Thijs
Roland Wiest

The speakers of the annual congress are at the center of the event itself. Without them, it would not be possible to share valuable content with the congress participants. They bring high-quality and up-to-date content, and are committed to sharing their knowledge as well as their research with their peers. They make a major contribution to EAN's main goal: to foster and support the development of neurological excellence in Europe.
Kristien Aarts
Zaira Abbas
Maged Abd El-Naseer
Hassan Abdullah Shakeel
Anna Abramova
Anat Achiron
Ivan Adamec
Liat Adar
Marina Afanaseva
Mariam Afkir Ortega
Daniela Aftene
Vrillon Agathe
Ahmed Ageed
Redina Agolli
Federica Agosta
Diana Aguiar de Sousa
Adriano Aguzzi
Jessica Ailani
Maria Ait Tihyaty
Aysi̇n Ak
Amir Reza Akbari
Gülden Akdal
Leila Akhmadeeva
Diliara Akhmadullina
Tamar Akhvlediani
Manel Akkari
Müge Akkoyun
Dragan Aksentijevich
Merve Aktan Suzgun
Orhan Aktas
Ali Al Samak
Mustafa Al Zamil
Emilio Albamonte
Luigi Albano
Vinícius Albergaria
Simon Sander Albrechtsen
Ammar Al-Chalabi
Dejan Aleksic
Katina Aleksovska
Olga A. Alenikova
Isadora Almeida
Jorge Alonso Perez
Fatma Altuntas Kaya
Anca Loredana Alungulese
Diana Alves
Janice Alves
Pedro Nascimento Alves
Maria Pia Amato
Faisal Mohammad Amin
Moshgan Amiri
Philippe Amouyel
Matthias Amprosi
Dipak Amrutkar
Evangelos Anagnostou
Andreas Andersen
Jane Anderson
Anna Andreou
Corrado Angelini
Efthalia Angelopoulou
Kateryna Antonenko
Angelo Antonini
Ines Antunes Cunha
Nicoletta Anzalone
Gennarina Arabia
Karolina Aragon-Gawińska
Berna Arda
Natalia Ardashirova
Dario Arnaldi
Douglas Arnold
Mirjana Arsenijevic
Anita Arsovska
Dina Arvanitis
Messoud Ashina
Sait Ashina
Amber Askarieh
Priyanka Atit
Amal Atrous
Bahaaeddin Attaallah
Jean-Francois Aubry
Lilit Avetisyan
Selma Aybek
Dilorom Ayupova
Sevak Ayvazyan
Elsa Azevedo
Faiza Aziouaz
Filiz Azman
Stephanie Azzopardi
Claudio Babiloni
Anca Badoiu
Belen Baena Alvarez
Umusalimat Bagirova
Wafik Bahnasy
Péter Balicza
Bettina Balint
Ana Baltasar Corral
Oliver Bandmann
Valentina Bannikova
Giovanni Baranello
Piero Barbanti
Plecko Barbara
David Enrique Barbero Jiménez
Ana Beatriz Barbosa Piffer
Carolina Barnett
Jean-Claude Baron
Alice Barra
Stephany Barreda Bezerra Da Silva
Rafael Barros
Henryk Barthel
Silvia Basaia
Claudio Bassetti
Laure Bastide
Walt Baxter
Ronny Beer
David Beeson
Ettore Beghi
Roland Beisteiner
Anna Belenciuc
Simone Bellavia
Maximilian Bellut
Mouna Ben Djebara
Meriem Ben Hafsa
Maria Benabdeljlil
Péter Benedek
Juan Benítez Valenzuela
Elinor Ben-Menachem
Derrick Bennett
Frank Bennett
Jeffrey Bennett
Alberto Benussi
Chiara Benzoni
Lisa Berger
Thomas Berger
Catarina Bernardes
Tiago Bernardino Gomes
Raphael Bernard-Valnet
Anna Bersano
Enrico Bertini
Giulia Berzero
Emily Beswick
Anastasia Bezrukova
Trishna Bharadia
Kailash P. Bhatia
Francesca Bianchi
Ferdinand Binkofski
Arnaud Biraben
Cristina Birzu
Luisa Biscoito
Alexandre Bisdorff
Roberta Biundo
Marte Bjork
Anders Bjorklund
Mercè Boada
Marina Boban
Tommaso Bocci
Rainer Boegle
Sylvia Maria Boesch
Magnus Boesen
Giacomo Boffa
Olga Bogomyakova
Maria Bogorodskaya
Almudena Boix Lago
Marco Bolchini
Eva Bølling-Ladegaard
Raffaello Bonacchi
Silvia B. Bonelli
Estelle A.C. Bonin
Alexandra Boogers
Heloise Helena Borges
Natan Bornstein
Olena Borodai
carmen borrue
Magdalena Bosak
Hind Bouchaoui
Charlotte Bouckaert
Anastasia Bougea
Mathilde Boussac
Femke H. Bouwman
Myroslav Bozhenko
Marina Kleopatra Boziki
Ivo Bozovic
Lubos Brabenec
Aleksandr Bragin
Brage Brakedal
João Marcos Brandet
Thomas Brandt
Christo Bratanov
Ionut-Flavius Bratu
Noa Bregman
Michele Brignole
Adolfo Bronstein
Gregor Brössner
Duncan Brown
Denise Bruen
Arnout Bruggeman
Andrea Brugnolo
Claudio Bruno
Gabriel Bsteh
Tatyana Bukkieva
Anna Buniak
Jean Marc Burgunder
Joachim Burman
Dawn Buse
Dan Buzoianu
Suresh Chandran C J
Borja Cabal-Paz
Gonçalo Cabral
Susana Cabral
Laura Cacciaguerra
Roger Cady
María Dolores Calabria Gallego
Cornelia Calcii
Catarina Caldeiras
Davide Calderaro
Zeljka Calic
Jose Luis Camacho-Velasquez
Laura Campbell
Maria Paola Canevini
Elisa Canu
Louis R. Caplan
Stefano F. Cappa
Valerio Caputo
Pierre G Carlier
Diogo Carneiro
Antonio Carotenuto
Sofie Carrette
William Carroll
Inês Carvalho
Inês Carvalho
Mamede Carvalho
Vanessa Carvalho
Michelle Case
Francesca Caso
Stephen Casper
Veronica Castelnovo
Lidia Castillo Mariqueo
Maria Victoria Castro Sanchez
Maria Grazia Cattinari
Silvina Catuara Solarz
Joaquim Cavalcante
Enrica Cavedo
Giordano Cecchetti
Adriana Celdrán de Castro García
Neşe Çelebisoy
Maria Cellerino
Chiara Cerami
João José Fernandes Cardoso Araújo Cerqueira
Matteo Cesari
Hakan Cetin
K Ray Chaudhuri
Juan Luis Chico
lucia chico
Maria Cholakova
Jakob Christensen
Magdalena Chylińska
Veranika Chyzhyk
Kyle Cilia
Alida Teodora Ciocan
Dumitru Ciolac
Bogdan Ciopleias
Andrea Ciplea
Sebahattin Cirak
Camilla Cividini
Kristl Claeys
Ioana Cociasu
Maria Teresa Pardal Monteiro Coelho
Pedro Coelho
Maria Fernanda Coimbra Alves
Jonathan D. Cole
Marco Colizzi
Carlo Colosimo
fabiana colucci
Giancarlo Comi
Isabel Conceição
Estefanía Conde Blanco
Cris Constantinescu
Elena Contaldi
Mark Cook
Hingray coraline
Alyne Cordeiro
Azael Cordero Novo
Charlotte Cordonnier
Maria-Kassandra Coronel
Tulio Correa
Andrea Cortese
António Costa
Diogo Costa
Eva Costa
Montse Costa
Octavia Costa
Raquel Costa
Roberta Costa
Joana Costa Novo
Gianluca Costamagna
Sofia Cotrim
Stefano Cotti Piccinelli
Erine Craey
Patrick Cras
Bruce Cree
Yvette Crijnen
Ruth Croney
Álvaro Javier Cruz Gómez
László Csiba
Alberto Cucca
Christopher Kjaer Cullum
ozge cumaogullari
Clarissa Cyrino
Camilla da Costa Pimentel Sampaio
Ana Martins da Silva
Catarina Damas
Emanuele D'Amico
Charlotte Damien
Maria Danilova
Ariadni Daponte-Dimitrakopoulou
Waseem Dar
Reseda Davletshina
Fabiana de Abreu Getulino
Maria Clara de Araujo
Francesco De Bellis
Blenda Antunes de Eça
Maria Gabriela de Freitas
Marina A. J. de Koning-Tijssen
Katrien De Looze
Gian Marco De Marchis
Ermelinda De Meo
Audrey De Paepe
Carmen de Rojas Leal
Gianfranco De Stefano
Marianne de Visser
Ségolène De Waele
Aleksander Dębiec
Peter Dedeken
Nicole Déglon
Ignacio del Pino de Laguno
Ljerka Delač
Sofia Delgado
Grazia Dell'Agnello
Estelle Dellapina
Claire Delpirou Nouh
John Deluca
Taís Luise Denicol
Emna Derbel
Frédéric Destrebecq
Günther Deuschl
Alessio Barnaba Di Fonzo
Rachele Di Giovanni
Giulia Di Lazzaro
Giovanni Di Liberto
Monica Di Luca
Stefania Diaconu
Caio Dias
Leonor Dias
Rafael Dias
Jordi Díaz Manera
Judit Díaz-Díaz
Carlos Andres Diaz-Garza
Suzanne L Dickson
Hans-Christoph Diener
Marianne Dieterich
Femke Dijkstra
Sevda Diker
Kristina Dimitrova
Michelangelo Dini
Joana Dionísio
Urszula Doboszewska
Lester Toni Dobrić
Ruth Dobson
Vincenzo Donadio
Thorsten Döppner
Marlies Dorloechter
João Gustavo dos Anjos Morais Oliveira
Ana Carla dos Santos Costa
Bissene Douma
Filipa Dourado Sotero
Nikolaj Dovbysh
Hristina Drangova
Julie Dreier
Katarzyna Drelich
Maurice T. Driessen
Christiane Druml
Renaud Du Pasquier
Milena Duarte Magalhães
Olga Dubenko
Ayush Dubey
Shubham Dubey
Nicolas Dubuisson
Anne Ducros
Shams Duja
John S. Duncan
Katarina Đurđević
Michael Dwyer
Mads Ebbesen
Georg Ebersbach
Mark Edwards
Alexandr Efimtsev
Randi Eikeland
Amber Eker
Mustapha El Alaoui Faris
Salah El Mestikawy
Sophie Elands
Ghassan Elfatih
Mariem Elfekih
Ahmed Elkady
Wilfried Ellmeier
Jarrar emna
Marc Engelen
John England
Amir Englund
Christian Enzinger
Stéphane Epelbaum
Fadime Erdogan Kucukdagli
Irem Erkent
Oleg Esin
Anna Estraneo
Anders Ettrup
Teresinha Evangelista
Stefan Evers
Amelia Evoli
Carlo Fabbiani
Aisylu T. Faizutdinova
Pietro Falco
Maouly Fall
Cristian Falup Pecurariu
Alessandra Fanciulli
Simon Fandler-Höfler
Marwa Farghaly
Temitope Farombi
Michelle Farrar
Aviva Fattal-Valevski
Patrícia Faustino
Pedro Faustino
Antonio Federico
Aliaksandr Fedulau
Ludmila Feghiu
Jinzhou Feng
Yuehan Feng
Luigi Ferini-Strambi
Marco Fernandes
Maria Tereza Fernandes
Moises Fernández García
Diana Ferraro
Laura Ferrè
Axel Ferreira
Daniel Ferreira
Joaquim Ferreira
Paulo Ferreira
Ricardo Ferreira
Gabriela Ferreira Kalkmann
Margarida Ferro
Carlos Figueiredo
Tamara Filimonova
Pavel Filip
Sasa Filipovic
Massimo Filippi
Benedicte Finger
Josef Finsterer
Luigi Fiondella
Konstantin Firsov
Francesco Fisicaro
Ana Catarina Fonseca
Zuzana Forejtová
Stephanie Forkel
Hans Förstl
Brenda Franco
Roberto Franco
Andrés Franco Salinas
Erica Frezza
Christoph Friedli
Cecilia Friedrichs-Maeder
Giovanni B. Frisoni
Caroline Froment Tilikete
Rolf Fronczek
Viktoria Fruhwirth
Jiayu Fu
Brona Fullen
Francesca Fumagalli
Giulio Gadaleta
Zukhra Gadzhieva
Giorgi Gagua
Helena Gama
Anna Gamaleya
Rimma Gamirova
Daniel Gams Massi
Ashraf Gango
Andreas Gantenbein
Roman Gapeshin
Héctor Garcia
David García Azorín
Manuel García Ruiz
Raul Anwar Garcia Santos
Juan Antonio Garcia-Carmona
Daniel A. García-Estévez
Luis J. Garcia-Larrea
Ravindra Kumar Garg
Federica Garrì
João Guilherme Garrido
Alexandru Gasnas
Nicolas Gaspard
Sara Gasparini
Thomas Gattringer
Laura Gaubert
Maria Gavriilaki
Svend Geertsen
Angela Genchi
Steve Gentleman
Claire Georges
Felix Geser
Alya Gharbi
Nesrine Ghedamsi
Giulia Giacomucci
EiriniI GiagkouI
Giulia Gianferrari
Maria Pia Giannoccaro
Raquel Gil-Gouveia
Tihana Gilman Kuric
Bruno Giometto
Alfonso Giordano
Giada Giovannini
Gavin Giovannoni
Enrique Gisbert Tijeras
Panagiotis Gklinos
Peter Goadsby
Olivier Godefroy
Filipe Godinho
Martina Goeldlin
Densema Gomboeva
Gabriela Gomes
Inês Gomes
Sara Gómez Enjuto
Irene Gómez Estévez
Luiz Gabriel Gonçalves Cherain
Luís Miguel Gonçalves Ribeiro
Alicia Gonzalez Martinez
Montserrat Gonzalez Platas
Nikos Gorgoraptis
Philip Gorwood
Helena Gossye
Flore Gouel
Narjes Gouta
Alessandra Govoni
Holm Graessner
Tiziana Granata
Lior Greenbaum
Benjamin Greenberg
Sofia Grenho Rodrigues
Violetta Gridina
Nikolaos Grigoriadis
Wolfgang Grisold
Corina Griu
Janine Gronewold
Julian Grosskreutz
Zoltan Grosz
Ross C Gruber
Pietro Guaraldi
Mar Guasp
Mariia Gubanova
Simone Guerrieri
Renzo Guerrini
Pedro Antonio Guirado Ruiz
Halil Güllüoğlu
Ceren Günbey
Emre Guney
Alexandr Gusev
Vadim Gusev
Mario Habek
Maximilian Habs
Amal Hadj Kacem
Tim Hagenacker
Volha Haliyeuskaya
Gabor Michael Halmagyi
Colleen Harris
Sarah Harris
Elfatih Hasabo
Stephen Hauser
Brian Healy
Anna Heidbreder
Wolfgang Heide
Raimund Helbok
Elisabeth Hens
David Henshall
Maria Jose Hernandez Garcia
Mario Hernández Holgado
Carolina Hernández Javier
Maria Hernández Ramírez
Aleksandra Herrera-Sokolowska
Marc Hilty
Max Hilz
jeremy hobart
Dorota Hoffman-Zacharska
Romana Höftberger
Einar August Høgestøl
Birgit Högl
Günter U. Höglinger
Rigmor Hojland Jensen
Negin Holland
Dagny Holle-Lee
Dana Horakova
Henry Houlden
Haykuhi Hovakimyan
Elisabeth Synnøve Nilsen Husebye
Alexis Hutson
Elena Iakovenko
Aizhamal Il'yazova
Elisabetta Indelicato
Bedoui Ines
Patricia Anda Ioan
Mihaela-Roxana Ioghen
Cristina Ionel
Mihai Radu Ionescu
Erika Iori
Pablo Irimia
Valentina Laura Irincu
Pablo Iruzubieta
Richard Isaacson
Emil Isagulyan
Mariam Isayan
Irina-Florina Ivan
Joke Jaarsma
Bartosz Jabłoński
maha jamoussi
Janet Janbek
Mladen Jankovic
Anna Jankowska
Elżbieta Jasińska
Han-Yeong Jeong
Cyrine Jeridi
Frank Jessen
Tiago Jesus
Idris Jimoh
JP Johnson Jr.
Jens Jordan
André FIlipe Jorge
Pushpa Joshi
Wolfgang Jost
Čarna Jovanović
Eduard Juanola Mayos
Judith Jud
Renato Teixeira Júnior
Imen Kacem
Stefania Kalampokini
Adam Kalinowski
Stylianos Kallivoulos
Ulf Kallweit
Marija Luīze Kalnina
Anita Kamondi
Ludwig Kappos
Ludwig Kappos
Unmil Karadkar
Georgios Karagiorgis
Ayse Gül Karaman
Stella Karantzoulis
Dmitry Kasatkin
Gregor Kasprian
Mira Katan
Zaza Katsarava
Regina Katzenschlager
Petra Kaufmann
Stanislav Kazakov
Hugh Kearney
Stephen Keddie
Mariam Kekenadze
David Kemlink
Keith Kennedy
Laura Kennelly
Jeroen Kerstens
Anat Kesler
Samson Khachatryan
Zifa Khaiatova
Asya Khaibullina
Mohamed Khalil
Sami Khella
Matthew Kiernan
Byung-Su Kim
Valerie Kirsch
Dmitrii Kiselev
Sergey Kiselev
Natalia Kiseleva
Varvara Kitaeva
Miia Kivipelto
Iris Kleerekooper
Christine Klein
Matthias Klein
Nina Kleineberg
Ingo Kleiter
C.J.M. (Karin) Klijn
Lisa Klingelhöfer
Markus Kneihsl
Juergen Knoblich
Stine Knudsen-Heier
Eva Koban
Naci Kocer
Koray Kocoglu
Matthias J. Koepp
Marisa Koini
Ilia Komoltsev
Sergey Kondratev
Kostiantyn Kondratiuk
Ekaterina Kondratyeva
Petr Konečný
Chamindra Konersman
Theresa König
Elias Konrath
Kimonas Kontokostas
Svetlana Kopishinskaya
Blaž Koritnik
Cornelia Kornblum
Anastasia Kornilova
Ekaterina Koroleva
Anna Kostera-Pruszczyk
Sergey Kotov
Ismail Koubiyr
Gabor G. Kovacs
Norbert Kovacs
Nik Krajnc
Christian Krarup
Anastasia Krasko
Svetlana Kravtsova
Magdalena Krbot Skoric
Martin Krenn
Ksenya Krivoruchko
Kristina Kucherova
Andrey Kulchikov
Anastasia Kurakina
Satima Kuranbaeva
Monica Kurtis
Marte Kvello-Alme
Theodoros Kyriakides
Chiara La Morgia
Angelo Labate
Jan Laczó
Lieven Lagae
Alan Lai
Lindsey Lair
Katarina Lakner
Ka-Hoo Lam
Nicolas Lambert
Giorgio Lambru
Doriana Landi
Gavin Langlands
Saar Lanir- Azaria
Caterina Lapucci
Inês Laranjinha
Syrine Laroussi
Anna Latorre
Simona Lattanzi
Anna Lavrinova
Emilie Le Rhun
Bárbara Leal
Miguel Leal Rato
Elena R. Lebedeva
Simon Lecerf
Jee-Young Lee
Jean-Pascal Lefaucheur
Antonia Lefter
Marina Legenko
Annette Leibetseder
Maria Isabel Leite
M Isabel Leite
Michela Leocadi
Letizia Leocani
Matilde Leonardi
Sonja Leonhard
João Leote
Lisa Lerjefors
Valentina Leta
Konstantinos Letsos
Nirit Lev
Laura Lewis
Steven Lewis
Didier Leys
Linxin Li
Yong Li
Zhaoyang Li
Roland Liblau
Claudia Lima
Maria Lima
Marisa Lima
Ralf Linker
Florian Lipsmeier
Clara Lisazo
Ekaterina Litusova
Jingjing LIU
Victoria Lizhdvoy
Michele Lo Giudice
piergiorgio lochner
Giuseppe Loddo
Kasper Lolk
Joana Lopes
Sofia Lopes
Ana Lopes Simões
Daniel López Domínguez
Yolanda López Moreno
Svetlana Lorenzano
Stefan Lorenzl
Pablo Lorenzo Barreto
Wolfgang Löscher
José Lourenço Rosa
Andres M. Lozano
Miquel Lozano
Elena Lozano Soto
Fred Lublin
Vinícius Lucio de Barros
Albert C. Ludolph
Pierre-Hervé Luppi
Inna Lutsenko
Kevin Sheng-Kai MA
Helena Machado
Manuel Machado
Rita Machado
Helmut Madersbacher
Beatriz Madureira
Andreia D. Magalhães
Diogo Magalhães
Mehdi Maghbooli
Delphine Magis
Alfonso Magliacano
Marta Magriço
Ralph Paul Maguire
Melinda Magyari
Laura Mahoney Sanchez
Marian Majoie
Sergey Makarov
Maria João Malaquias
Elizaveta Malenkova
Valeriya Malko
Theresa Mallia
Stanislav Malyshev
Marziyya Mammadova
Yasuhiro Manabe
Giovanni Luigi Mancardi
Eric Manchon
Elisabetta Mancuso
Michelangelo Mancuso
Arianna Manini
Alia Mansour
Renato Mantegazza
Kseniia Manysheva
Damiano Marastoni
Yelena Marchenko
Monica Margoni
Ester Marín Conesa
Caterina Mariotti
Alice Mariottini
Kirill Markin
Martha Marko
João Marques
Antonio Marques Atalaia
Tony Marson
Jon Martin Prieto
Guillaume Martin-Blondel
Ilaria Martinelli
Filippo Martinelli Boneschi
Rafael Jenaro Martínez Marín
CESAR MARTINEZ TOMAS
María Martínez Zarco
Eugenia Martinez-Hernandez
Vanja Martinovic
Bárbara Martins
Cecília Martins
Diogo Martins
Isabel Pavão Martins
Maria Martins
Elisa Martins Silva
Maria Melania Martoiu
Clara Marzal Espí
Gianvito Masi
Ilias Masouris
FEDERICO MASSA
Riccardo Masson
Diana Matos
Jorge Maurino
Theodoros Mavridis
Vergil Mavrodiev
Sofia Mavromati
Katsiaryna Mazurenka
Salvatore Mazzeo
Enrico Mazzon
lamia mbarek
Paul Cedric MBONDA
Jonathan McCrea
Norma McKean
Mary Clare McKenna
Marco T. Medina
Anastasia Medvedeva
Matthias Mehling
Shima Mehrabian-Spassova
genevieve Meier
Thomas Meinel
Bruna Meira
Filipa Meira Carvalho
Wassilios Meissner
Kazimieras Melaika
Shahla Melikova
Maroua Melliti
Mikhail Melnikov
Javier A. Membrilla
Lucas Mendes
Til Menge
Katerina Mensikova
Eugenio Mercuri
Eugenio Mercuri
Ann Mertens
Chandrashekhar Meshram
Roberta Messina
Klara Metzner
Sven Meuth
Claudia Mevers
Elsa Mhanna
Ishita P. Miah
Lucia Migliore
Petr Mikulenka
Marius Militaru
Aleisha Miller
Ron Milo
Miguel Miranda
Anna Mironczuk
Tea Mirosevic Zubonja
Seyoneh Mirzakhanian
Tamara S. Mishchenko
Kaalindi Misra
Usha Kant Misra
Marouan Missaoui
Dimos-Dimitrios Mitsikostas
Kristina Mitterova
Tea Mladenić
Josef Mohammad
Lucia Moiola
Maria J. Molnar
Sara Monge
Tobias Monschein
Xavier Montalban
Isabel Monteiro
Jacqueline Montes
Federico Montini
Larissa Moreira
Francesca Morgante
Elena Moro
Júlia Moro
Alexis Moscoso
Mathieu Mossad
Anna Moustafellou
Saloua Mrabet
Magdalena Mroczek
Sabine Mueller
Eti Muharremi
Martin Mulligan
AARÓN MUNGUÍA
Sergio Muñiz Castrillo
Araceli Muñoz-García
Maria-Lucia Muntean
Francesco Muntoni
Marco Antonio Muñuzuri-Camacho
Dafin Fior Muresanu
Alex Murphy
Christian Sandøe Musaeus
Mario Muto
Wolfgang Nachbauer
Gabriela Nacu
Steffen Naegel
Yvonne Naegelin
Gábor Nagy-Grócz
Mecbure Nalbantoglu
Sanjeev Nandedkar
Andres Nascimento
Ziad Nasreddine
Alina Nechifor
Jiri Nepozitek
Vardan Nersesjan
Christoph Neuwirth
Ítalo Neves
Sona Nevsimalová
Yi Shiau Ng
Fidelie Scholastique NGOUNGOURE HALIMA
Richard Nicholas
Maria A. Nikitina
Katarina Nikoloic
Markku Nissilä
Flavio Nobili
Ajda Novak
Julie Novakova Martinkova
Liliia Novikova
Juliana Nunes
Thomas Nyffeler
Dag Nyholm
Stefan Oberndorfer
Laura Obici
Per Odin, MD, PhD
Wolfgang H. Oertel
Gonzalo Ogando
Jiwon Oh
Javier Olazarán
Jes Olesen
Denise Oleske
Jamary Oliveira
Renato Oliveira
Vanessa Oliveira
David Oliver
Marek Olszycki
Simisola Onanuga
C Orakwe
Celia Oreja-Guevara
Niccolò Orlandi
Beatrice Orso
Gunay Osmanova
Marwan Othman
Tiago Fleming Outeiro
Kevin Pacheco-Barrios
Maurizio Paciaroni
Alessandro Padovani
Gennaro Pagano
Javier Pagonabarraga
Michael Armando Palacios Mendoza
Ágnes Palásti
Luca Palliotti
André Palmini
Itai Palmon
Jalesh Panicker
Yulia Panina
Dmitriy Panov
Meri Papajani
Giulia Paparella
Orestis Papasouliotis
Laura Papetti
Ryta Papko
Matteo Pardini
Martina Parizkova
Paloma Parra Díaz
Tandis Parvizi
SAMUEL IGNACIO PASCUAL
Jignesh Patel
Chiara Paternostro
Isabekova Patimat
Friedemann Paul
Laura Paulino
Antun Rudolf Pavelic
Nicola Pavese
Anne Pavy-Le Traon
Andrew Pearlmutter
Costanza Peinkhofer
Jukka T. Peltola
Nadine Pelzer
Esteban Peña
Jing Peng
Iris-Katharina Penner
Ane Pereira
Diogo Pereira
Maria Pereira Coutinho
Stojan Z. Peric
Vincent Pernet
Matej Perovnik
Fabienne Perren
Emilio Perucca
Bettina Pfausler
My Hanh Pham
Antonia Pignolo
Andrea Pilotto
Rita Pinheiro
Dávid Pintér
Joana Pinto
Maria João Pinto
Asla Pitkänen
Fabio Pizza
Amy Place
Gordon Plant
Lauren Podger
Gerhard Poelzl
Werner Poewe
Aleksandra Pogoda
Denis D. Pokhabov
Zvonimir Popovic
Leonardo Portocarrero Sánchez
Caroline Pot
Aurelia Poujois
Graham Powell
Patricia Pozo-Rosich
Mattia Pozzato
Federico Emanuele Pozzi
Maria Eduarda Lehubach Ferreira Prates
Mabel Prendergast
Matthias Preusser
Paolo Preziosa
Janine Prick
Niels Prins
Anne-Katrin Pröbstel
Tatyana Prusova
Harald Prüß
Marc Puig Casadevall
Salomé PUISIEUX
Dilyora Pulatova
Tatiana Pushkar
Olga Pustelniak
Guido Putignano
Luis Querol
Susana Quijano-Roy
Lucia Quirós
Augusto Rachão
Vanja Radišić
Branislava Radojević
Tim Raemaekers
Paolo Ragonese
Arezoo Rajabian
Mladen Rakic
Martin Rakusa
Kottil Rammohan
Ana Ramos Gonzalez
Eris Ranxha
Daniel Rapp
Nomena Finiavana RASAHOLIARISON
Raul Rashid Abdu Rahim
Thorsten Rasmussen
Katrin Rauen
K Ray Chaudhuri
André Rêgo
Martin Reich
Heinz Reichmann
Mary M. Reilly
Lorena Reis
Eni Reka
Ivan Rektor
Irena Rektorova
Dorota Religa
Jana Remlinger
Letícia Requião
Markus Reuber
Uwe Reuter
Charles Jourdan Reyes
René Rheimann
Rinat Ribalov
Athena Cristina Ribigan
Marc Ribo
Daniel Richardson
James Richardson
Vito AG Ricigliano
Flora Rider
PAOLO RIPELLINO
Eero Rissanen
Giovanni Rizzo
Lydia Roberts
Mark E. Roberts
Maria Assunta Rocca
Giovanni Rocha
Jose Rocha
Mariana Rocha
Raquel Rocha
Marija Roddate
Carmelo Rodolico
Mario Rodomonti
Catarina Rodrigues
Belén Rodriguez
Marta Rodríguez Camacho
Roberto Rodriguez-Rivas
Ana Rodríguez-Sanz
Anne-Sophie Rolland
ALEXANDRA ROMANOV
Michele Romoli
Luis Alejandro Rosales Renteria
Anne Rosser
Alex Rovira
Emmanuel Roze
Roberta Rudà
Alessandra Rufa
Lourdes Ruiz-Escribano Menchén
Nadezhda Ruzhdii
Evzen Ruzicka
Philippe Ryvlin
Annika Saak
Marianne Saard
Saraswathy Sabanathan
Meritxell Sabidó
Ziada Sabrine
Anna Sadnicka
Raquel Sainz Amo
Marcel Salathé
Alexander Salerno
Jean Samuel
Miguel Sánchez Boyero
Laura Sanchez Cirera
ALVARO SANCHEZ FERRO
Ley Sander
Esteban Sanesteban Beceiro
Davide Sangalli
Giulio Sansone
Roberto Santangelo
Ana Paula Santos
Mónica Santos
Diego Santos García
Daniela Santos Oliveira
Cláudia Santos Silva
Leandro R. D. Sanz
Dario SARACINO
Elisabetta Sarasso
Dina Sarsembayeva
Anna Sauerbier
Elvira Sbragia
Pietro Giuseppe Scamarcia
Marta Scarioni
Jochen Schäfer
Christoph Schankin
Ulrike Schara-Schmidt
Philip Scheltens
Filip Scheperjans
Francesca Schiano di Cola
Marianela Schiava
Klaus Schmierer
Bettina Schmitz
Sophie Schneider
Thomas Schneider
Christiane Schneider-Gold
Christian Schnier
Ludger Schöls
Miguel Schön
Benedikt Schoser
Jonathan Schott
David Schreier
Bettina Schreiner
Susanne Schubert-Bast
Meredith Schultz
Andreas Schulze-Bonhage
Felix Konstantin Schwarz
Michelle Schwarz
Nils Schweingruber
Bernd Sczesni
Sergio Secades
Vladislava Segen
Sonia Segovia
Stefan Seidel
James Sejvar
Amina SELLIMI
Johann Sellner
Aurora Semerano
Vorapun Senanarong
Konstantin Senkevich
Marta Sequeira
Carlos Sequeira Quesada
Filipa Serrazina
Laurent Servais
Caroline Sevin
Evangelos Sfikas
Kamila V. Shamtieva
Yi Shen
Galina Shevtsova
TAKAYOSHI SHIMOHATA
Natalia Shirobokova
Vasily Shirokov
Vasily Shirokov
Yuliya Shpilyukova
Mikhail Sialitski
Gabriele Siciliano
Walter Sifontes Valladares
Vincenzo Silani
Alexandra Silva
Ana Rita Silva
Cristiana Filipa Ribeiro Silva
Gabriela Silva
Gisele Silva
Rhuann Pontes Silva
Maria Luiza Silva Casé
Hilton Silva Junior
João Victor Silva Ribeiro
Nicholas Keyi Sim
Patrik Simko
Rebeca Simões Pissinatti
Alessandro Simonati
Ruken Simsekoglu
Joanna Ingrid Sinelli
Gagandeep Singh
Tarun Singhal
Debra Skene
Jaroslaw Slawek
Elena Slyunkova
Jerusa Smid
Marion Smits
Giovanna Soares
Pedro Soares
Ewa Sobieszczuk
Liubov Sokolova
Alessandra Solari
Claudio Solaro
Claudia Sommer
Peter Sommer
Carles Soriano-Mas
Melissa Sorosina
Carolina Sousa Fernandes
Felipe Souza
Nathália Raquel de Souza Fernandes
Aysun Soysal
Cleanthe Spanaki
Marianna Spatola
Edoardo Gioele Spinelli
Dragos-Andrei Spinu
Roshan Sreekumar
Petros Stamatelos
Maria Stamelou
Simona Stanková
Slobodan Stankovic
Thomai Stardeli
Dominika Šťastná
GEORGIA STAVROPOULOU
Ambra Stefani
Elka Stefanova
Bernhard Steinhoff
Lawrence Steinman
Katie Stenson
Ivana Štětkářová
James Stevens
Fabrizi Stocchi
Elisabeth Stögmann
Panagiotis Stoiloudis
Anette Storstein
Benedetta Storti
Claudia Strafella
Igor Straka
Volker Straub
Dominik Straumann
Kevin Strauss
Michael Leo Strupp
Maria Cristina Suteanu
Per Svenningsson
Pawel Swieboda
Jarosław Świstak
Ben Mammou Syrine
Jozsef Attila Szasz
Wojciech Szypowski
Pille Taba
narges tabatabaei
Olivera Tamas Stojiljković
Cheng-Yin Tan
Lu Tang
Delphine TANGUY
Hatice Tankisi
Larissa Targino
Cristina Tassorelli
Haythum O. Tayeb
Chutithep Teekaput
Agnete Teivane
Barbara Teixeira
Liora ter Horst
Sergey Tereshchenko
Ivan Ternovykh
Charlotte Teunissen
Sneha Thakur
Dietmar Thal
Roland D. Thijs
Rhys Thomas
Andreas Thomsen
Eric Thouvenot
Majda Thurnher
Houyam Tibar
Mar Tintoré
Maarten J. Titulaer
Manuel Toledo
Luca Tolsa
Torbjörn Tomson
Sofia Toniolo
Leonor Torrão
francesca torri
Antonio Toscano
Betina Trabjerg
Philippe Tran
janet Treasure
Claudia Trenkwalder
MICHELE TRIMBOLI
ASSUNTA TRINCHILLO
Eugen Trinka
Maria Trojano
Maja Trošt, MD, PhD
Federica Trucco
Diana Tsakova
Lawrence Tucker
Katarina Tudor
Mar Tulinius
Ei Mon Zin Tun
Michelangelo Turazzini
Giulia Turchi
Bengi Gul Turk
Catherine Turner
Martin Turner
Janina Ulbl
Can Ulutas
Canan Ünalp
Antonino Uncini
Cenk Murat Unverdi
Burak Uzay
Jurgita Valaikiene
Ramona Valante
João Valdêncio
Josep Valls-Sole
Diederik van de Beek
Leonard H. van den Berg
Peter Van den Bergh
Wiesje van der Flier
Glenn van der Lande
JP Van Dijk
Pieter A. van Doorn
Thilo van Eimeren
Daniel van Wamelen
Bart Van Wijmeersch
Sarah Vascellari
Nina Vashchenko
Maria Vasilieva
George Vavougios
Adriana Vazão
Juan Francisco Vázquez Costa
Alberto Velayos Galán
Gabriel Velilla Alonso
Rita Ventura
PATRICK VERMERSCH
Johannes Vester
Beatriz Vicente
Sebastian Viertauer
Luca Vignatelli
Jort Vijverberg
Andreu Vilaseca Jolonch
Francisco Javier Villanueva Ruiz
Angela C. Vincent
Joana Vítor
Pamela Vo
Tobias Vogelmann
Lisa Voggenberger
Alberto Vogrig
Ekaterina Volkova-Volkmar
Tim von Oertzen
Kristl Vonck
Kamil Vrbica
Barbara Vuchkova
Tijana Vujanic Stankov
Donna Walsh
Maggie C. Walter
Ruihao Wang
Tobias Warnecke
Thomas T. Warner
Neil Watson
Konrad P. Weber
Markus Weber
Hartmut Wekerle
Elena Wenz
Kamil Wężyk
Aidan Whitehead
David Whiteside
Marni Williams
Hugh Willison
Christian Wöber
Nicole Wolf
Stefan Wolf
Chee Keong Wong
Nicholas W. Wood
Pawel Wrona
Caroline Wyatt
Malbora Xhelili
Nikolaos Christos Xifaras
Sophia Xirou
Letícia Yabushita Rigoti
Bassem Yamout
Wenyu Ye
Onur Yenidünya
Stephen Yeung
Zerrin Yıldırım
Tarek Yousry
Olga Yuryk
Maryam Zabitova
Muhammad Zahid
Anna Zakharova
Marjan Zaletel
Chiara Zanetta
Edmar Zanoteli
Anca-Elena Zarnoveanu
Karin Zebenholzer
Michael Zech
Marialuisa Zedde
Estere Zeltina
Henrik Zetterberg
Yared Z. Zewde
Gaoqi Zhang
Hongyi Zheng
wenbin zheng
Alexandr Zhiryakov
Lana Zhovtis Ryerson
Eliza Zhunusova
Michal Zido
Tjalf Ziemssen
Frauke Zipp
Carl Zipser
Huda Zoghbi
Rania Zouari
Tobias Zrzavy
Sameer Zuberi
Kamila Żur-Wyrozumska

The session chairpersons at the annual congress guide the participants as well as the speakers through the sessions. They facilitate the sessions in a way that the content is coherent and ask questions to foster discussion and continuity. They also provide reviews for the Investigator award and a dedicated number of chairpersons are responsible for the Tournament.
Maged Abd El-Naseer
Federica Agosta
Diana Aguiar de Sousa
Tamar Akhvlediani
Ammar Al-Chalabi
Patrick Altmann
Corrado Angelini
Angelo Antonini
Angelo Antonini
Anita Arsovska
Dina Arvanitis
Micol Avenali
Elsa Azevedo
Claudio Baracchini
Giovanni Baranello
Panagiotis Bargiotas
Claudio Bassetti
Ettore Beghi
Roland Beisteiner
Angelo Bellinvia
Elinor Ben-Menachem
Daniela Berg
Thomas Berger
Kailash P. Bhatia
Marte Bjork
Mercè Boada
Sylvia Maria Boesch
Giacomo Boffa
Alessandro Bombaci
Natan Bornstein
Femke H. Bouwman
Thomas Brandt
Bruno Brochet
Sarah Buerki
Sarah Buerki
Dawn Buse
Pasquale Calabrese
Andrea Calvo
Laura Campbell
Nuno Martins Marques Canas
Stefano F. Cappa
Stefano F. Cappa
William Carroll
Vanessa Carvalho
Neşe Çelebisoy
Andrew Chan
Augustina Charway-Felli
Abhijit Chaudhuri
Louisa Marguerite Christensen
Elisabeth Chroni
Jonathan D. Cole
Marco Colizzi
Carlo Colosimo
Giancarlo Comi
Isabel Conceição
Cris Constantinescu
Maria Fiorella Contarino
Paul Cooper
Charlotte Cordonnier
Pietro Cortelli
João Costa
László Csiba
Anna Czlonkowska
Philippe G. Damier
Gian Marco De Marchis
Sylvie De Raedt
Marianne de Visser
Marianne de Visser
Yıldız Değirmenci
Guillermo Delgado-García
John Deluca
Vida Demarin
Giovanni Di Liberto
Giovanni Di Liberto
Francesco Di Lorenzo
Monica Di Luca
Franziska Di Pauli
Karin Diserens
Colin P Doherty
Jelena Drulovic
Renaud Du Pasquier
Raffaele Dubbioso
Nicolas Dubuisson
Gilles Edan
Ahmed Elkady
Ayse Deniz Elmali
Mohammed ELSherif
Amir Englund
Christian Enzinger
Füsun Ferda Erdoğan
Stefan Evers
Cristian Falup Pecurariu
Cristian Falup Pecurariu
Antonio Federico
Axel Ferreira
Maria Teresa Ferretti
Martha Feucht
Sasa Filipovic
Massimo Filippi
Massimo Filippi
MASSIMILIANO FILOSTO
Urs Fischer
Ana Catarina Fonseca
Sten Fredrikson
Giovanni B. Frisoni
Rolf Fronczek
Rolf Fronczek
Giuliana Galassi
Pedro J. Garcia-Ruiz
Nicolas Gaspard
Salimata Gassama
Stefano Gelibter
Gavin Giovannoni
Zoltan Goldenberg
Philip Gorwood
Riadh Gouider
Holm Graessner
Nikolaos Grigoriadis
Nikolaos Grigoriadis
Katrin Gross-Paju
Ute Gschwandtner
RENZO GUERRINI
Tanya Gurevich
Dan Healy
Wolfgang Heide
Raimund Helbok
Max Hilz
Romana Höftberger
Martin Holtkamp
Dana Horakova
Jakub Hort
Andreas Hottinger
Henry Houlden
Masud Husain
MATILDE INGLESE
Pablo Irimia
Poul Jorgen Jennum
Beomseok Jeon
Ruta Kaladyte Lokominiene
Ulf Kallweit
Reetta K. Kälviäinen
Ludwig Kappos
Aristeidis Katsanos
Zaza Katsarava
Regina Katzenschlager
Petra Kaufmann
Michael Khalil
Vasilios Kimiskidis
Miia Kivipelto
Christine Klein
Nina Kleineberg
Thomas Klopstock
Samuel Knauss
NACI KOCER
Venkata Krishna Chaitanya Koduri
Daniel Kondziella
Chamindra Konersman
Anna Kostera-Pruszczyk
Christian Krarup
Eva Kubala Havrdová
Theodoros Kyriakides
Lieven Lagae
Durjoy Lahiri
Giorgio Lambru
Giuseppe Lanza
Simona Lattanzi
Antonia Lefter
Maria Isabel Leite
Matilde Leonardi
Maurizio A. Leone
Liliana Letra
Didier Leys
Linxin Li
Roland Liblau
Stefan Lorenzl
Albert C. Ludolph
Jan Lycke
Antonella Macerollo
Antonella Macerollo
Melinda Magyari
Luis F. Maia
Giovanni Luigi Mancardi
Michelangelo Mancuso
Michelangelo Mancuso
Sara Mariotto
Cláudia Marques-Matos
Isabel Pavão Martins
Luca Massacesi
Theodoros Mavridis
Marco T. Medina
Wassilios Meissner
Til Menge
Roberta Messina
Sven Meuth
Ron Milo
Ron Milo
Dimos-Dimitrios Mitsikostas
Marcello Moccia
Maria J. Molnar
Elena Moro
Elena Moro
Magdalena Mroczek
Sergio Muñiz Castrillo
Maria-Lucia Muntean
JAGARLAPUDI MURTHY
Sanjeev Nandedkar
Christoph Neuwirth
Yi Shiau Ng
Flavio Nobili
Vladimir Nosal
Stefan Oberndorfer
Per Odin, MD, PhD
Frederike Cosima Oertel
Jiwon Oh
David Oliver
Celia Oreja-Guevara
Christoph Ostgathe
Serefnur Ozturk
Visnja Padjen
Filipe Palavra
Jalesh Panicker
Sokratis Papageorgiou
Vasileios Papaliagkas
Viktoria Papp
Walter Paulus
Nicola Pavese
Stojan Z. Peric
Emilio Perucca
Bettina Pfausler
Giuseppe Plazzi
Matthias Preusser
Maura Pugliatti
Paolo Ragonese
Katrin Rauen
K Ray Chaudhuri
Mary M. Reilly
Konrad Rejdak
Irena Rektorova
Gauthier Remiche
Markus Reuber
Uwe Reuter
Athena Cristina Ribigan
Marc Ribo
Nicola Rifino
Mark E. Roberts
Maria Assunta Rocca
Camilla Rocchi
Raquel Rocha
Michele Romoli
Guido Rubboli
Stephan Rüegg
Evzen Ruzicka
Philippe Ryvlin
Maria José Sá
Anke Salmen
Eric Salmon
Ernestina Santos
Dina Sarsembayeva
Marta Scarioni
Felix Schlachetzki
Bettina Schmitz
Erich Schmutzhard
Alfons Schnitzler
Benedikt Schoser
David Schreier
Andreas Schulze-Bonhage
Stefan Schwab
Giorgia Sciacca
Stefan Seidel
Stefan Seidel
Johann Sellner
Konstantin Senkevich
Gabriele Siciliano
Gabriele Siciliano
Vincenzo Silani
Gisele Silva
Alessandro Simonati
Carmen Adella Sirbu
Aksel Siva
Ricardo Soares dos Reis
Riccardo Soffietti
Alessandra Solari
Claudia Sommer
Per Soelberg Sörensen
Ambra Stefani
Leonidas Stefanis
Elka Stefanova
Maja Steinlin
Fabrizi Stocchi
Elisabeth Stögmann
Dominik Straumann
Kevin Strauss
Walter Struhal
Michael Leo Strupp
Adam Strzelczyk
Pille Taba
Radu Tanasescu
Radu Tanasescu
Hatice Tankisi
Cristina Tassorelli
Erik Taubøll
Zaruhi Tavadyan
ELENA OANA TERECOASA
Lucia Testy
Lucia Testy
Roland D. Thijs
Eric Thouvenot
Lorenzo Tinti
Mar Tintoré
Sofia Toniolo
Antonio Toscano
Claudia Trenkwalder
Eugen Trinka
Delia Tulbă
Hayrettin Tumani
Jean-Michel Vallat
Josep Valls-Sole
Josep Valls-Sole
Nadine van der Beek
Bart Van Wijmeersch
ROSARIO VASTA
Jan Versijpt
Jort Vijverberg
Angela C. Vincent
Dmitar Vlahovic
Tim von Oertzen
Tim von Oertzen
Kristl Vonck
Gunhild Waldemar
Maggie C. Walter
Clemens Warnke
Markus Weber
Barbara Willekens
Hugh Willison
Caroline Wyatt
Görsev Yener
Tarek Yousry
Frauke Zipp
Sameer Zuberi

The abstract reviewers are a vital part of ensuring the high quality of public abstract submissions. They review up to 200 abstracts per person and help make the EAN ePoster area and all oral sessions a success. The also review abstracts based on public relevance and make a pre-selection for the investigator award.
Gianmarco Abbadessa
Ivan Adamec
David Adams
Joana Afonso Ribeiro
Federica Agosta
Diana Aguiar de Sousa
Tamar Akhvlediani
Alberto Albanese
Luisa Albuquerque
Yuri Alekseenko
Rahim Aliyev
Faisal Mohammad Amin
Evangelos Anagnostou
Efthalia Angelopoulou
Banu Anlar
Jean-Marie Annoni
Slobodan Apostolski
Gennarina Arabia
Rui Araújo
Zohar Argov
Ethem Murat Arsava
Mirjana Arsenijevic
Anita Arsovska
Elisa Baldin
Jean-Claude Baron
Henryk Barthel
Mateja Baruca
Amit Batla
Nerses Bebek
Ettore Beghi
Angelo Bellinvia
Daniel Bereczki
Thomas Berger
Peter Berlit
Raphael Bernard-Valnet
Giulia Berzero
Alessia Bianchi
Anne-Sophie Lydia Biesalski
Alexandre Bisdorff
Marte Bjork
Sylvia Maria Boesch
Ferdinand Oliver Bohmann
Anastasia Bougea
Marina Kleopatra Boziki
Ana Catarina Brás
Geir Bråthen
Ionut-Flavius Bratu
Noa Bregman
Tomislav Breitenfeld
Marianthi Breza
Bruno Brochet
Adolfo Bronstein
Anne Bruijnes
Mislav Budišić
Pasquale Calabrese
Ilaria Callegari
Andrea Calvo
Elisa Canu
Stefano F. Cappa
Diogo Carneiro
Edoardo Caronna
Mamede Carvalho
C.E. Catsman-Berrevoets
Francesco Cavallieri
Neşe Çelebisoy
Chiara Cerami
Hugues Chabriat
George G. Chakhava
Abhijit Chaudhuri
Viorica Chelban
Jakob Christensen
Nicolas Lundahl Ciano Petersen
Calogero Edoardo Cicero
Bogdan Ciopleias
Kristl Claeys
Paulo Coelho
Isabella Colonna
Carlo Colosimo
Giancarlo Comi
Gianluca Coppola
Philippe Corcia
Timothy Counihan
Patrick Cras
David Crosiers
Tunde Csepany
Laszlo Csiba
Anna Czlonkowska
Philippe G. Damier
Jan De Bleecker
Thomas de Broucker
Gian Marco De Marchis
Marianne de Visser
Yıldız Değirmenci
Vida Demarin
Chantal Depondt
Tobias Derfuss
Günther Deuschl
Francesco Di Lorenzo
Alessandro Di Santo
Rafael Dias
Judit Díaz-Díaz
Volker Dietz
Alessandro Dinoto
Laurens Dobbels
Rogelio Dominguez Moreno
Isabel Maria dos Santos Luzeiro
Bogdan Draganski
Jelena Drulovic
Renaud Du Pasquier
Nicolas Dubuisson
Taskin Duman
João Durães
Ahmed Elkady
Ayse Deniz Elmali
Mohammed ELSherif
Sebastiaan Engelborghs
Devrimsel Harika Ertem
Filipa Falcão
Cristian Falup Pecurariu
Alessandra Fanciulli
Simon Fandler-Höfler
Gábor Fazekas
Klara Fekete
Eva Feketeova
Ansgar Felbecker
José M Ferro
Elisabeth Fertl
Michael Fetter
Martha Feucht
Fernando F.A. Figueira
Sasa Filipovic
Massimo Filippi
Massimiliano Filosto
Josef Finsterer
Urs Fischer
Francesco Fisicaro
Tormod Fladby
Andreea Florea
Vera Fominykh
Ana Catarina Fonseca
Ana Catarina Fonseca
Kristian Steen Frederiksen
Sten Fredrikson
Caroline Froment Tilikete
Rolf Fronczek
Alejandro Fuerte Hortigón
Giorgio Giulio Fumagalli
David García Azorín
Pedro J. Garcia-Ruiz
Salimata Gassama
Thomas Gasser
Thomas Gattringer
Maria Gavriilaki
Zuzana Gdovinova
Stefano Gelibter
Raquel Gil-Gouveia
Nils Erik Gilhus
Dmitrijs Glazunovs
Ralf Gold
Bruno Gran
Angel Luis Guerrero Peral
Tanya Gurevich
Nicholas J. Gutowski
Mario Habek
Dan Healy
Anna Heidbreder
Wolfgang Heide
Raimund Helbok
Roman Herzig
Max Hilz
Sonja Hochmeister
Stephanie Hödl
Alenka Horvat Ledinek
Andreas Hottinger
Michella Ibrahim
Levent Ertugrul Inan
Panagiotis Ioannidis
Francesco Iodice
Slavko Jankovic
Liga Jaunozoliņa
Ilijas Jelcic
Jaroslav Jerabek
Annette Johansen
Jens Jordan
Alain Kaelin
Ulf Kallweit
Reetta K. Kälviäinen
Anita Kamondi
Adile Tulay Kansu
Peter Kapeller
L. Jaap Kappelle
Ludwig Kappos
Guntis Karelis
Michal Karlinski
David Kemlink
Desmond Kidd
Mojca Kirbiš
Kleopas Kleopa
C.J.M. (Karin) Klijn
Thomas Klopstock
Luisa Klotz
Samuel Knauss
Michael Knoflach
Anneli Kolk
Ekaterina Kondratyeva
Daniel Kondziella
Svetlana Kopishinskaya
Blaž Koritnik
Janika Kõrv
Anna Kostera-Pruszczyk
Norbert Kovacs
Christian Krarup
Nikola Kresojevic
Jan B.M. Kuks
Theodoros Kyriakides
Lieven Lagae
David Laplaud
Elena R. Lebedeva
Antonia Lefter
Karen Lehrmann Ægidius
Markus Leitinger
Nicolas Lejeune
Letizia Leocani
Lea Leonardis
Maurizio A. Leone
Valentina Leta
Didier Leys
Linxin Li
Vitalie Lisnic
Sventlana Lorenzo
Wolfgang Löscher
Tudor Lupescu
Jan Lycke
Timothy Lynch
Antonella Macerollo
Melinda Magyari
Michelangelo Mancuso
Yelena Marchenko
Monica Margoni
Lisbeth Marner
Isabel Pavão Martins
Mark Maskery
Luca Massacesi
João Massano
Theodoros Mavridis
Geert Mayer
Thomas Meinel
Katerina Mensikova
Roberta Messina
Patrik Michel
Illa Mihejeva
Ivan Milenkovic
Vladyslav M. Mishchenko
Nenad Mitrovic
Panayiotis Mitsias
Xavier Moisset
Gustave C. Moonen
Alessandra Morano
Magdalena Mroczek
Askhat Mukushev
Sergio Muñiz Castrillo
Maria-Lucia Muntean
Alexander Murley
Yvonne Naegelin
Yi Shiau Ng
Soheyl Noachtar
Eduardo Nobile-Orazio
Flavio Nobili
Michael Nsaka
Petra Nytrová
Stefan Oberndorfer
Frederike Cosima Oertel
Wolfgang H. Oertel
László Oláh
Jes Olesen
Hugo Oliveira
David Oliver
Celia Oreja-Guevara
Serefnur Ozturk
Maurizio Paciaroni
Filipe Palavra
Savvas Papacostas
Sokratis Papageorgiou
Georgios Paraskevas
Davide Pareyson
Friedemann Paul
Nadine Pelzer
Stojan Z. Peric
Matthieu Perrenoud
Violaine Plante-Bordeneuve
Svetlana Plesca
Simon Podnar
Jesús Porta-Etessam
Caroline Pot
Paolo Preziosa
Mubasher Qamar
Paolo Ragonese
Martin Rakusa
Katrin Rauen
Heinz Reichmann
Irena Rektorova
Dorota Religa
Gauthier Remiche
Athena Cristina Ribigan
Nilo Riva
Maria Assunta Rocca
Adina Maria Roceanu
Raquel Rocha
Michele Romoli
Uros Rot
SIlvia Rota
Alex Rovira
Guido Rubboli
Roberta Rudà
Jobst Rudolf
Stephan Rüegg
Robert Rusina
Liis Sabre
Albert Saiz
Anke Salmen
Marina Sangheli
Leandro R. D. Sanz
Dina Sarsembayeva
Ceyhun Sayman
Christoph Schankin
Ulrike Schara-Schmidt
Olivier Scheidegger
Felix Schlachetzki
Reinhold Schmidt
Erich Schmutzhard
Ludger Schöls
Benedikt Schoser
David Schreier
Giorgia Sciacca
Sangeeta Scotton
Juraj Secnik
Johann Sellner
Konstantin Senkevich
Ieva Sereike
Gabriele Siciliano
Vincenzo Silani
Antonio Silvani
Alessandro Simonati
Joanna Siuda
Aksel Siva
David Školoudík
Ricardo Soares dos Reis
Per Soelberg Sörensen
Marianna Spatola
Peter Spencer
Edoardo Gioele Spinelli
Ambra Stefani
Leonidas Stefanis
Tanya Stojkovic
Guido Stoll
Anette Storstein
Dominik Straumann
Jurgis Strautmanis
Duncan Street
Michael Leo Strupp
Adam Strzelczyk
Miguel Tábuas Pereira
Gertrúd Tamás
Hatice Tankisi
Erik Taubøll
Elena Oana Terecoasa
Alessandro Tessitore
Lucia Testy
Charlotte Teunissen
Dietmar Thal
Lorenzo Tinti
Maarten J. Titulaer
Svetlana Tomic
M. Akif Topcuoglu
Antonio Toscano
Klaus Viktor Toyka
Christine Tranchant
Claudia Trenkwalder
Maria Trojano
Maja Trošt, MD, PhD
Georgis Tsivgoulis
Bernard M.J. Uitdehaag
Jurgita Valaikiene
Ramona Valante
Jean-Michel Vallat
Josep Valls-Sole
Philip Van Damme
Jan Van Gijn
Daniel van Wamelen
Ludo Vanopdenbosch
Nina Vashchenko
Federico Verde
Ana Verdelho
Jan Versijpt
Anita Vetra
Marie Vidailhet
Federico Vigevano
Juan Vilchez
Dmitar Vlahovic
David B. Vodušek
Alberto Vogrig
Taras Voloshyn
Kristl Vonck
Clemens Warnke
Frank Weber
Frank Weber
Konrad P. Weber
Markus Weber
Michael Weller
Marieke J.H. Wermer
Gerald Wiest
Barbara Willekens
Adam Wiśniewski
Raphael Wurm
Dilek Yalnizoglu
Muge Yemisci Ozkan
Tjalf Ziemssen
Panagiotis Zis
Yvonne Zuurbier